The Studio B² was founded in 2010 and is centrally located in Munich West in the Munich industrial area of Westend. People, business and product photos are created here on 120m². 2 make-up areas ensure that even medium sized shootings with several models can be realized without any hassle.
In Studio B² you will be professionally accompanied to achieve the best results in a short time.  Whether photographer, make-up artist or hairstylist – we will help you, support you and give you tips on posing and public image. You will receive recommendations for the right clothing, effective make-up and suitable hair styling.
Upfront every shooting there is always a preliminary meeting. Here, location, clothing and styling for the shooting are discussed. You must feel comfortable! Get to know us better in the preliminary talk and discuss your wishes with us. If you do not feel comfortable, I will recommend another colleague at no additional cost. Here you benefit from our good and extensive networks. Personal photography is a matter of trust and we want you to work with photographers you believe in and feel comfortable with!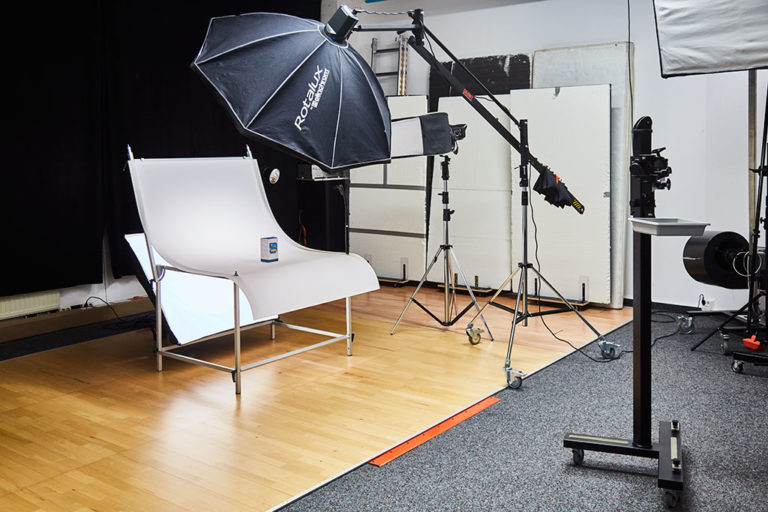 Your way to the Studio B²
The Studio B² is located in Munich's Westend. It is part of the Gewerbehof Westend. It is centrally located, 2 SBahn stations away from the main station.
You can reach the studio on foot from the SBahn station Donnersberger Brücke. After leaving the station, keep left (southbound), cross Landsberger Straße and after 150m turn right at a zebra crossing through a barrier into the Gewerbehof Westend. Alternatively, it is also very easy to reach by a 5 minute walk from the Heimeranplatz underground station (exit Trappentreustraße). Follow Trappentreustraße for about 600m, then turn left through the barrier to the Westend industrial estate.
By car, the entrance is at the corner of Trappentreustraße and 20 Westendstraße (west side). Parking spaces are located in the inner courtyard. If the barrier is closed (after 19:00 or at the WE), please call 0175 1864695.
After the barrier, turn left immediately into entrance E (attention, do not use the single door, but go through the large window/door front, behind which there are 2 elevators). Here is also the mailbox. Then take the elevator to the 4th floor, follow the corridor to the right to Studio B² (second door on the left side)
Postal address:
Timo Bierbaum Photography / Studio B²
Gewerbehof Westend / Entrance E
Trappentreustr. 20
80339 Munich