Prints
 
You can obtain pictures from us on CD/DVD ROM or online. But sometimes digital is just not everything. The special picture develops its effect only on the printed medium in the appropriate size.
 
Photos on premium photo paper
Photos on classic linen, mounted on a stretcher frame
Prints behind acrylic glass, on Alu Dibond, Kappa hard foam
FineArt Prints on papers from Hahnmühle or Tecco
Large format reverse glass prints
Special features and formats by request.
Photo books
We are happy to provide you with photos in your personal photo album. We work together with various manufacturers and can offer you a wide range of cover materials and formats. From the simple holiday booklet to the noble wedding book in leather cover and own gift box. Ask us for a price quote.
Annual wall calendar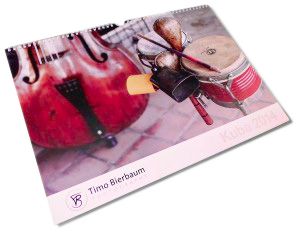 The TB Photography annual calendars are produced in limited quantities and are sought-after photographic collectors' items. 
Calendar customized for companies
For companies we also produce the annual calendar "customized" with your logo on the front if ordered in time. Just contact us with the desired quantity for a price quote.